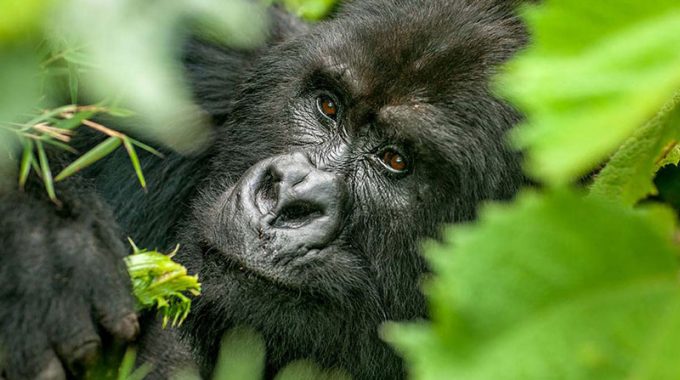 Uganda Reopens With Extra Covid Precautions To Protect Its Mountain Gorillas
October 1 marked the reopening of Uganda to international tourists, after a six month closure of the country's main airport in Entebbe just outside the capital of Kampala. Uganda has thorough precautions in place to protect not only human residents and visitors, but also to protect its abundant wildlife—especially its endangered mountain gorillas.
Highlights of Uganda
Known as "the Pearl of Africa," Uganda is an ethnically-diverse country straddling the equator in East Africa. While many tourists come for treks and safaris to see the country's wildlife, they're often surprised by Uganda's rich cultures, food (be sure to try a Rolex sandwich and Stoney's ginger beer), and the variety of things to do (bungee jumping over the Nile, anyone?).
Uganda is home to half the world's population of endangered mountain gorillas, which can only survive at altitude in Uganda, Rwanda, and the Democratic Republic of the Congo. Want to trek with them?
In Uganda, you can also see chimpanzees, hippos in the Kazinga Channel, the "big five" (buffalo, elephant, lion, leopard, and rhino), kob (you'll first spot the gazelle on Uganda's coat of arms), zebra, giraffe, and more than half of Africa's bird species including the Shoebill. Uganda even has lions that sleep in trees, the only lions to do that outside of Tanzania.
Covid protections for Uganda's primates and other wildlife
Entering Uganda's ten national parks requires a fever check and hand sanitizing. Masks—properly worn—are mandatory inside the parks too. Trekking to see the country's famed mountain gorillas and chimpanzees requires extra precautions, given the genetic similarities between humans and these primates.
Fever checks take place at several checkpoints during primate treks and mask rules are strict. Trekkers need to carry at least two masks (double-layered cloth masks, surgical masks, or N95 masks) for each day of trekking. The minimum distance visitors must keep from primates increased from 23 feet (7 meters) to 32 feet (almost 10 meters).
There are just over 1,000 mountain gorillas remaining in the world, with about half the population living in Uganda's mountains. Trekking rules to see the endangered species were already strict, given that gorillas can catch the common cold from humans. Extra Covid precautions should help keep the gorillas safe while also bringing in tourism dollars—essential for their survival.
Uganda's Covid rules for arrival and departure  
To enter Uganda, you'll need to show a certificate of a negative PCR test (no older than 72 hours from arrival) to board your flight and show it to officials upon arrival. You'll also need a negative test in order to board a flight to depart Uganda (done 72 hours prior to boarding).
At the airport, for both arrival and departure, there are a number of health screenings including a fever check. Passengers showing Covid symptoms will be tested and kept in isolation until they test negative. A positive test will result in a two-week quarantine.